This week I am sharing another craft we did! My 2 older boys (7 & 5 years) are doing
Apologia Flying Creatures
. Here is a fun craft I found on Pinterest that we decided to do for fun to tie into our lesson. My 3 year old daughter made one too!
Materials:
Egg Carton 
Large Pom Poms
Tacky glue or hot glue
Feathers
Googly Eyes
Paint & Paint Brushes
Orange Pipe Cleaner
Scissors
First cut out individual egg cups from the egg carton for each bird (one per bird), have the child paint it, my kids painted theirs blue. Then once the paint dries glue the pom pom to the egg carton cup.
Let dry for amount 1/2 hour and then have child glue on googly eyes and beak which is the pipe cleaner that was cut about 1 inch and bent in 1/2 (glue the bent side to the pom pom so that the open portion is outward) then have the child glue on the feathers to the back of the egg carton cup. My 3 year old daughter decided she wanted wings so she glued some on the side of the egg carton cups.
Super easy and fun to make! Great for when learning about birds, a Spring time craft, learning the letter B or just to make for fun!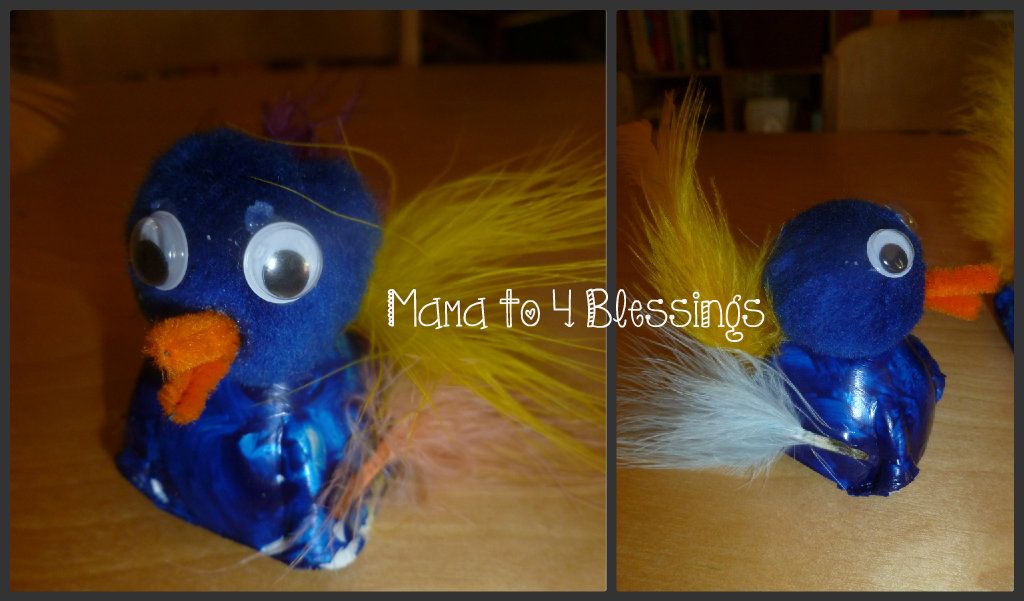 Mama to 5 Blessings is also linking this post up at: