My family had never seen V-Tech's Mobi-go until we were at a family function and for the first time we say one of the other children playing it. My kids were intrigued and I admit so was I. It was educational and yet entertaining for children.
V-Tech has recently come out with their new
Mobigo 2
! Designed for  kids ages 3-8 who can enjoy having their own educational handheld toy that engages them while they learn.
This fantastic handheld touch learning system is a multi-functional device that provides fun and education in many different ways. With numerous games and apps teach basic learning skills including math, vocabulary, spelling, reading, logic, drawing and more! Perfect for on the go, homeschooling or just everyday learning!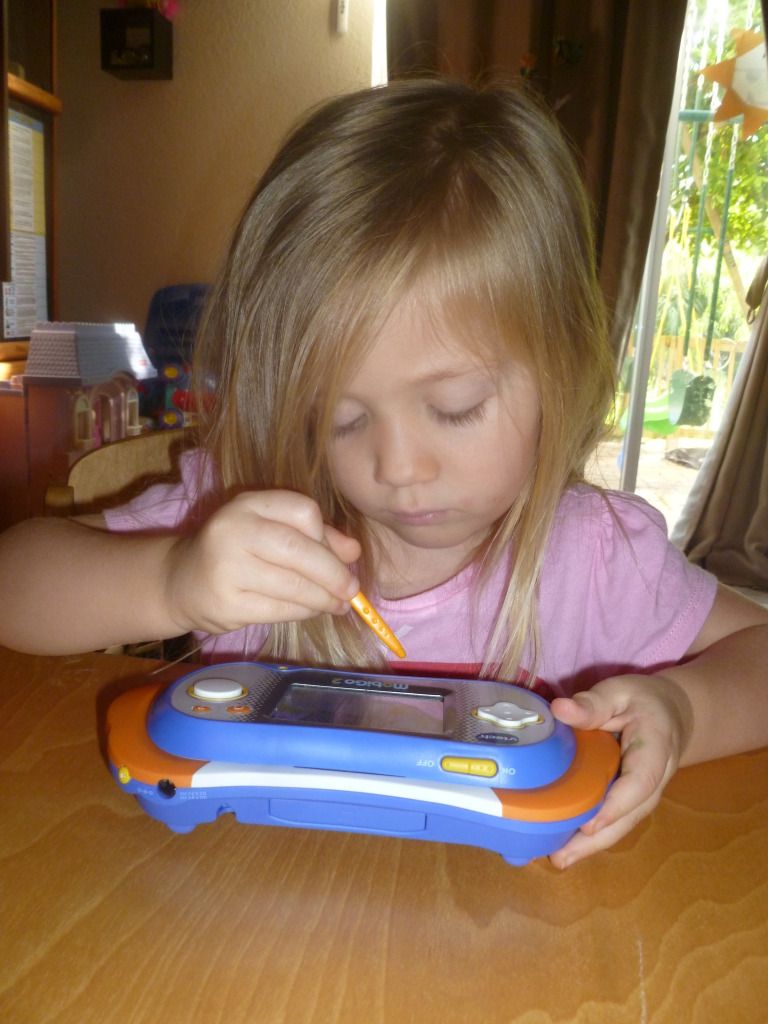 ~  Offers a motion sensor and microphone, adding two new features for kids to explore.
~ Touch screen,  the keyboard, the motion sensor, and the microphone.
~ Built-in and downloadable apps that include e-books, coloring books, an art studio, a photo album and more. 
This device is listed for ages 3 and up however my 20 month baby enjoys sitting at the table and playing with the Hamster Roll game and actually he is pretty good at it. It's great for hand and eye coordination. The buttons are all perfect sizes for little hands and the selection of games are wonderful to enrich children's minds. I found that the games are super inexpensive to download on V-Tech's web-site ranging $2.99 in price.
The Mobigo 2 has been perfect for my children on the go and in the car at co-ops (keeping my younger children entertained). My boys love video games, they would play them all day if I allowed them to, what I like about the Mobigo 2 is that they are not just "playing" games they are learning at the same time!
The Mobigo 2 can be purchased directly from VTech or from Amazon for approximately $59.00. VTech offers fantastic product for children. Follow VTech on Facebook and Twitter to stay tuned for new and exciting products coming your way!
"I participated in a campaign on behalf of Mom Central Consulting for VTech. I received product samples to facilitate my review."