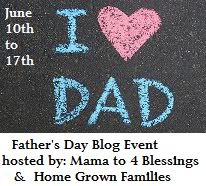 Thank you for stopping by The I Love Dad –  Father's Day Giveaway Hop Event, hosted by Mama to 4 Blessings and Home Grown Families! This event will take place from June 10th at 12:01am EST to June 17th at 11:59pm EST. This events is all about celebrating Dads! Which means we will be offering things Dads love for giveaways! After entering my fantastic giveaway be sure to visit each blog from the linky below the Rafflecopter and enter for your chance to win some really amazing prizes valued at $20.00 and up!
Superior Nut Company has a strong social and

environmental commitment

in its mission to produce the finest nut products in the world. They have been recognized with a prestigious Environmental Merit Award from the U.S. Environmental Protection Agency for our forest plantation in Central America. This forest plantation absorbs all the carbon dioxide we emit as an energy consuming food manufacturing plant. This is an efficient model for every business in this country to reduce it's emissions that cause global warming.
Our family loves nuts. We found that Superior Nut Company offers products that everyone will enjoy, one of them that we had the opportunity to try was
12 oz. Giant Whole Cashews Gift Tin
.
These delicious Whole Cashews are oil roasted in small batches the old fashioned way and are available salted and unsalted. These 160 count Brazilian Giant Cashews are the cashew connoisseur's dream. It takes talent to roast them to perfection. 
Product features:
This gift tin has a diameter of about 6 in and a height of about 2 in.
A Personalized Greeting Card can be added during the checkout.
This product is certified Kosher Pareve. 
These Whole Cashews didn't last long in our house! They were gone in a few days. These cashews were nothing like we have ever had in the past, they were huge! Not your typical small cashews that you find at your run of the mill store. Superior Nut Company offers the freshest cashews I have ever had. Once they were gone we were wanting more!
Superior Nut Company offers dried fruits, nuts, cakes, pies, candy and much more!
Superior Nut Company is generously offering one of my readers a $25.00 Gift Certificate!
Enter to win by u
sing

the below Rafflecopter form to enter for a chance to win this awesome giveaway! Please let me know if you have any questions!
Disclaimer: Please note that Mama to 4 Blessings, "I Love Dad – Father's Day Giveaway Hop Event" bloggers are not responsible for sponsors that do not fulfill their prizes. We have represented each sponsor with the expectation they will fulfill their prize and in a timely manner. We will contact the sponsor regarding your prize(s). The sponsors, in most cases, are shipping their items to you directly. We will make every effort to assist you obtaining your prize. If there is an issue with a sponsor, please notify the blog you won a prize from within 4-6 weeks for assistance, after that we may be unable to assist you.