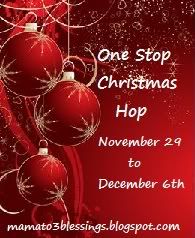 This is it – it's finally here — The One Stop Christmas Hop! Myself along with several other bloggers are participating in giveaways with a value of $25 or more at each of the participating blogs! Scroll down below and see what other blogs are offering as giveaways but 1st read my review for this awesome product!
Olympic Mountain Products
has over thirty years of excellence in manufacturing leading national brands, specializing in bath and body, advanced skin care, and home & garden.
One of the products they offer is
Essenza.
Essenza 's elegant scented wax warmer offers artistic design and custom fragrance combinations to create a unique presence in any room. Mix and create your own fragrance to make a statement in home or office .This beautiful ceramic wax warmer also lights up ,filling the room with aroma and ambiance. Set Contains : 1 Wax Warmer with 5.5' Electrical cord and 25 Watt light bulb – 2.5 oz of each of the following Wax Chips ; Bamboo White Tea , Mandarin Cranberry , Pomegranate Cider , Vanilla Almond
My Review: I love candles and yummy scents running through my home! Especially at Christmas time because we have up an artifical Christmas tree so we do not have that nice scent of the holiday smells in the air. I love the Essenza scented wax warmer because there are no candles involved! I do not use candles as frequently as I would like because with 4 children ages 6 and under I am afraid they will knock it over, I like how this warmer set does not require use of candles – it plugs in! Yes, I still have to be careful. I also love the scents this set offers – my favorite bamboo white tea! I am amazed how much comes in this set for the affordability! This makes a wonderful Christmas gift! 
Buy It:
Essenza Scented Wax Warmers sell for approximately $40.00 and can be purchased directly from
Olympic Mountain Products
, Coscto or Amazon.
Win a Essenza Scented Wax Warmer set!
Here's how to enter a this giveaway:
Please ONLY use Rafflecopter below the linky of participating bloggers for The One Stop Christmas Hop to enter this giveaway, leaving comments for entry will not be included. If you have any questions please let me know. Thank you!